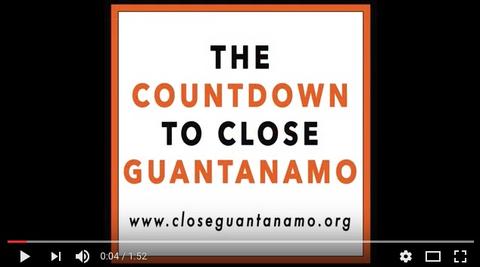 By Andy Worthington, November 10, 2016
Video features photos of some of the 500+ celebrities and concerned citizens who have sent in photos this year for the Countdown to Close Guantánamo, and a new song, "Close Guantánamo," by The Four Fathers.
Following the news that Donald Trump has won the Presidential Election, the Close Guantánamo campaign has launched a new promotional video, urging President Obama to do all he can to fulfill the promise to close the prison at Guantánamo Bay that he made on his second day in office back in January 2009.
We believe that the need to close the prison is more urgent than ever, given that, on the campaign trail, Donald Trump promised to keep Guantánamo open, to send new prisoners there, and to reintroduce torture.
See the video below, via YouTube — and please note it is also featured on our Facebook page, and is also on the homepage of Close Guantánamo website.
The Close Guantánamo campaign was established in January 2012, on the 10th anniversary of the opening of the prison, by journalist Andy Worthington and attorney Tom Wilner, who was Counsel of Record to the Guantánamo prisoners in their Supreme Court cases in 2004 and 2008.
Tom Wilner says: "Obama has the authority to close Guantánamo. He has 70 days to do it. This lawless prison should not be his legacy."
Andy Worthington says: "No more delays. Anything could happen after Donald Trump's inauguration. Obama needs to close Guantánamo in his last ten weeks in office."
The Countdown to Close Guantánamo initiative was launched in January by Andy and music legend Roger Waters (ex-Pink Floyd), and over 500 celebrities and concerned citizens across the U.S. and around the world have sent in photos of themselves reminding President Obama, at 50-day intervals, of how many days remained for him to close Guantánamo. See the Celebrity Photos here, and Public Photos here, and here and also here. The newest photos are here. To get involved, print off a 50 days to go poster, take a photo with it, and send it to us for November 30. You can also include a message to President Obama, if you wish, and let us know where you're from.
The video features, amongst others, Roger Waters, Brian Eno, the actor David Morrissey, former prisoners Shaker Aamer, Moazzam Begg and Djamel Ameziane, Reprieve's founder Clive Stafford Smith, Andy Slaughter MP, Fowzia Siddiqui, the sister of "war on terror" victim Aafia Siddiqui, attorney Nancy Hollander, Yahdid Ould Slahi, the brother of recently released Guantánamo prisoner Mohamedou Ould Slahi, Yemi Hailemariam, the partner of U.K. citizen and Ethiopian political activist Andy Tsege, kidnapped by the Ethiopian government and abandoned by the British government, journalist Yvonne Ridley, Joy Hurcombe, the chair of the Save Shaker Aamer Campaign, journalist and doctor Saleyha Ahsan, Joanne MacInnes, the co-founder of the We Stand With Shaker campaign, Mexican playwright Humberto Robles, and Muslim campaigner Suliman Gani.
The song featured in the video is by Andy Worthington's band The Four Fathers, who also performed the campaign song for the We Stand With Shaker campaign, and is available as a download here.
For further information, and to discuss any aspects of the campaign to close Guantánamo relating to President Obama's last ten weeks in office, and the significance of Donald Trump's election victory, please contact Close Guantánamo.