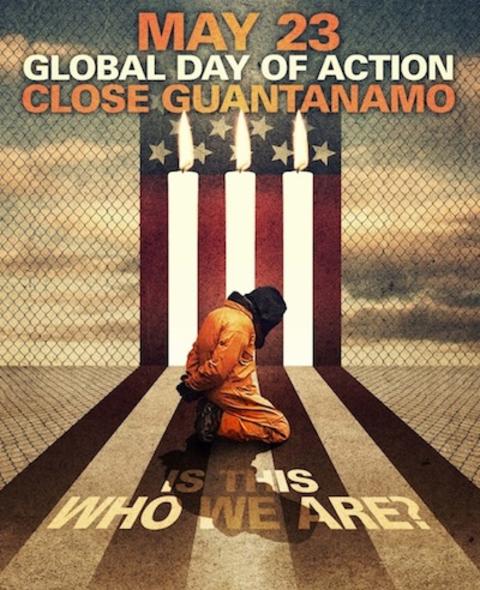 By Andy Worthington, May 12, 2014
Next Friday, May 23, is a global day of action, "Not Another Broken Promise! Not Another Day in Guantánamo!" organized by the campaigning group Witness Against Torture, with the support of numerous other groups including Close Guantánamo, Amnesty International, Blue Lantern Project, Center for Constitutional Rights, CloseGitmo.net, Code Pink, London Guantánamo Campaign, National Religious Campaign Against Torture, No More Guantánamos, September 11th Families for Peaceful Tomorrows, Torture Abolition and Survivor Support Coalition, Veterans for Peace and World Can't Wait.
25 events in five countries have been arranged so far, and they include events in New York, Washington D.C., Boston, Chicago, London, Munich and Toronto. The full list can be found here, and Andy Worthington, the co-founder of the "Close Guantánamo" campaign, will be speaking at the London protest, which takes place in Trafalgar Square from 12 noon to 2pm. If your hometown isn't represented, and you want to set up your own event, please contact Witness Against Torture, and see this page for a comprehensive toolkit for those organizing protests.
It's a year since President Obama's promise to resume releasing prisoners from Guantánamo
The reason for the global day of action next Friday is because, on May 23, it will be exactly a year since President Obama delivered a major speech on national security issues, in which he promised to resume releasing prisoners from Guantánamo, after a period of nearly three years in which the release of prisoners had almost ground to a halt. Sadly, it took a prison-wide hunger strike -- and unprecedented domestic and international interest in the plight of the prisoners -- for the president to promise action.
Congress had imposed restrictions on the release of prisoners, requiring the administration to certify that, if released, prisoners would be unable to engage in terrorism -- a certification that was, essentially, impossible to make. However, although a waiver existed in the legislation, allowing President Obama to bypass Congress if he regarded it as being "in the national security interests of the United States," the president chose not to use it.
What made this so unacceptable was the fact that 86 of the 166 prisoners still held in Guantánamo when President Obama made his speech and delivered his promise last May had been cleared for release in January 2010 by a high-level, inter-agency Guantánamo Review Task Force, appointed by President Obama shortly after he took office in 2009. The task force reviewed the cases of all the prisoners held when the Obama presidency began, and recommended them for release, for prosecution or for ongoing imprisonment without charge or trial.
Two-thirds of these prisoners were Yemenis, and another obstacle was raised to prevent their release after a airline bomb plot, hatched in Yemen, was foiled in December 2009, and, in response, President Obama issued a moratorium on releasing any Yemenis. The president only lifted that ban in his speech last May, but it had never been fair, as it constituted a blanket form of "guilt by nationality," and there is no way that establishing a review process and then not releasing prisoners recommended for release can be regarded as anything other than a desperately cruel measure that would shame a dictatorship.
Since President Obama made his promise last May, he has appointed two envoys to assist with the closure of Guantánamo -- Cliff Sloan in the State Department and Paul Lewis in the Pentagon -- and 12 prisoners have been released. This is commendable, but it is just a start. 77 cleared prisoners are still held -- 75 cleared for release by the task force, and two cleared for release by the new Periodic Review Boards established last year -- and as long as these men are held, in such significant numbers, there can be no complacency regarding Guantánamo and the still urgent need for the prison to be closed and for this dark chapter in America's history to be brought to an end.
It is particularly important for the Yemenis -- who make up 57 of these 77 men -- to be released, and to be released immediately. Not a single Yemeni has been released since President Obama dropped his ban a year ago, and it is disgraceful that everyone in a position of power and responsibility in the U.S. seems to believe that having fears about the security situation in Yemen justifies holding men forever, despite a presidential task force -- and, in two recent cases, high-level Periodic Review Boards -- concluding that they should be released.
What you can do now
Please call the White House on 202-456-1111 or 202-456-1414 to urge President Obama to act immediately to release the cleared Yemeni prisoners. You can also submit a comment online.
Call Cliff Sloan at the State Department on 202-647-4000 to demand action on the release of prisoners. Tell him you're disappointed that only 12 men have been released since President Obama's speech last May.
Note: This article was published simultaneously here and on Andy Worthington's website.