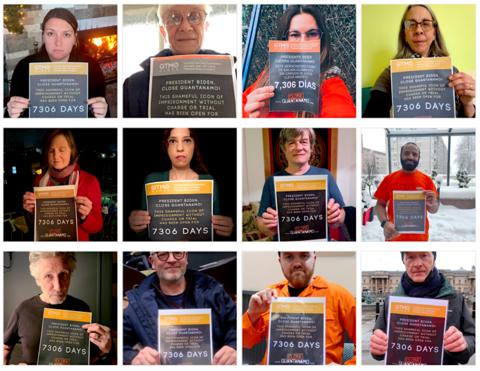 Welcome to the Close Guantánamo website. Donations to support the work of the Close Guantánamo campaign in 2022 are welcome and are greatly encouraged. Please click on the "Donate" button below to pay via PayPal.
If you can make a regular monthly donation, please tick the box marked, "Make this a monthly donation," and fill in the amount you wish to donate every month.
Jan. 11, 2022 marked a shameful anniversary that we all hoped would never arrive: the 20th anniversary of the opening of the prison at Guantánamo Bay. Our co-founders, Tom Wilner and Andy Worthington, were involved in a number of events to mark this terrible milestone, and you can find all the details here. In order to let the prisoners know that they've not been forgotten, we recently posted a request for supporters to write to them, via our article, Please Write to the Guantánamo Prisoners, Let Them Know They've Not Been Forgotten Under President Biden.
Also check out Andy's article, As Guantánamo Turns 20, It Is Imperative That President Biden Finds the Political Will to Close It, and see below for the video of Andy and Tom discussing the 20th anniversary of the opening of Guantánamo in an online event at New America, in Washington, D.C., also featuring Karen Greenberg, and moderated by Peter Bergen.
Please also check out the video of Andy discussing Guantánamo's 20th anniversary with former prisoner Mansoor Adayfi and attorney Shelby Sullivan-Bennis at an event hosted by Revolution Books in New York.
Please also read Andy's latest articles, The U.S.'s Ongoing "Forever Prisoner" Problem at Guantánamo, about the five "forever prisoners" still held, Algerian Suffering from PTSD, and Mistakenly Identified as an Associate of Abu Zubaydah, Is Approved for Release from Guantánamo (a world exclusive), In Abu Zubaydah Case, Justice Gorsuch Lays Bare the U.S. Government's Shameful and Enduring Torture Problem, Mentally Ill Torture Victim Mohammed Al-Qahtani Approved for Release from Guantánamo, and Five More Prisoners Approved for Release from Guantánamo: 18 of the 39 Remaining Men Are Now Waiting to Be Freed. Also see below for Andy's keynote speech at "Guantánamo: 20 Years After", an online conference hosted by the University of Brighton, which took place on Nov. 12-13, 2021. For more videos, see here.
Please also read our other recent articles:
- "The Forever Prisoner": Alex Gibney's New Documentary About CIA Torture Victim Abu Zubaydah
- Sen. Dick Durbin Files Amendment to National Defense Authorization Act (NDAA) Calling for the Closure of Guantánamo
- Former Guantánamo Prisoner Kidnapped in Yemen, Held at an Unknown Location
- For First Time Since 2010, A Judge Grants a Guantánamo Prisoner's Habeas Corpus Petition, Ruling that Asadullah Haroon Gul's Imprisonment is Unlawful
- Never-Ending Injustice: State Secrets and the Torture of Abu Zubaydah
- Over 330,000 Concerned Citizens Sign a Petition Urging President Biden to Close Guantánamo and
- On the 20th Anniversary of the 9/11 Attacks, the U.S. Needs to Close Guantánamo and Bring to an End the Broken Military Commission Trials.
Please also check out our article following the final U.S. withdrawal from Afghanistan, Why the Taliban's Victory in Afghanistan Mustn't Prevent the Closure of Guantánamo.
In July, we congratulated the Biden administration for finally releasing a prisoner from Guantánamo Bay: Abdul Latif Nasser, a Moroccan national who was approved for release over five years ago. See the story here. In March 2022, a second prisoner was released by Biden: Mohammed al-Qahtani, who was sent back to Saudi Arabia to receive the psychiatric care for his schizophrenia that was not available at Guantánamo, and third prisoner, Sufyian Barhoumi, was repatriated to Algeria at the start of April. Please do bear in mind, however, that these two releases are not enough.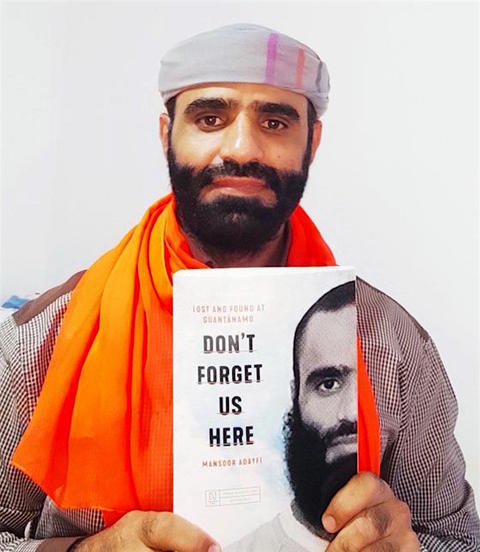 We also continue to extend our congratulations to former Guantánamo prisoner Mansoor Adayfi, whose memoir, "Don't Forget Us Here: Lost and Found at Guantánamo," written with the writer and editor Antonio Aiello, was published by Hachette Books in August. Check out our co-founder Andy Worthington's review here.
Who we are and why we care
We are a group of lawyers, journalists, retired military personnel and concerned citizens seeking to close the "war on terror" prison at Guantánamo Bay, where 37 men are still held, 19 of whom have been cleared for release.
January 11, 2022 was the 20th anniversary of the opening of the prison at Guantánamo Bay, and the start of its 21st year of operations. This is an anniversary that should never have come to pass.
The prison at Guantánamo Bay is an abominable experiment in indefinite detention, which poisons America's claim to be a nation that believes in justice. Of the 19 men still held but approved for release, three have been waiting to be freed for over ten years, which is unforgivable, another was approved for release at the end of the Trump presidency by a Periodic Review Board, a process established in 2013 to review the cases of all the prisoners not already approved for release or facing trials, 14 other men have been approved for release by PRBs since President Biden took office, and one other man, Majid Khan, is awaiting release after serving a sentence that was part of a plea deal in his military commission trial. Please be aware, though, that approving men for release means nothing unless they are actually freed.
Just 12 men are facing or have faced trials, while the others (seven men in total) have been aptly described as "forever prisoners," recommended for ongoing imprisonment without charge or trial by the PRBs. Check out our full list of the PRBs here, and please also feel free to look at our full prisoner list, identifying the 37 men still held, and incorporating the decisions about whether they should be freed, tried or held indefinitely.
Please encourage President Biden and your Senators and Representatives to support our call to close the prison. Let them know that, while the prison remains open, it undermines America's values and national security. You can send a message to the White House here, and you can find your Senators here, and your Representatives here.
Join us now to help end this injustice and restore the rule of law. We call on President Biden to close Guantánamo, and will continue to do so until it is closed for good. Your voice matters.
Thank you for your commitment and support, and thank you for your interest in bringing this dark chapter in modern U.S. history to an end. Please see our mission statement for a more detailed analysis of why Guantánamo must be closed, and to see the list of prominent individuals and organizations who have signed it.
---